The Jangids: An Origin Story
The tradition of sandalwood carving dates back centuries. The wood is softer and more uniform, endearing itself to craftsmen. The heart of the wood is the most precious, with a fragrance that lasts years. The changing nature of its colour is delightful to artisan and patron alike. It is no wonder that successive dynasties held sandalwood carving in high esteem. The craft bloomed as whole families adopted the practice, spreading beyond Karnataka and reaching Churu, Rajasthan, where the Jangid family originated.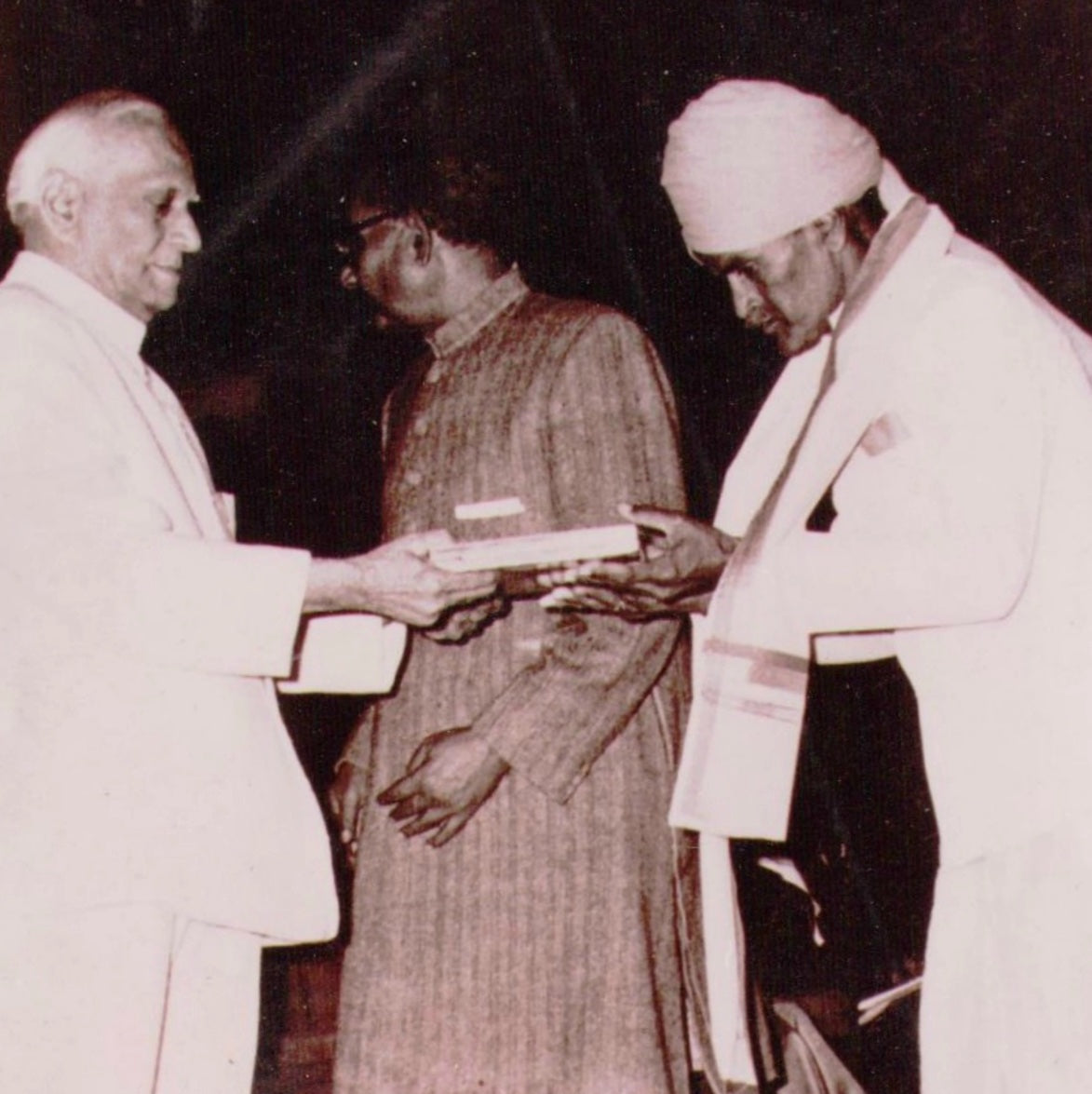 MALCHAND KALAKAR JANGID: THE MASTER OF MATERIAL
The Jangid family traces its history of wood carving back to the Mughal era. Initially, they would carve thresholds and architectural elements like the others of their trade. They would carve on walnut, teak, rosewood, ebony and sal wood, depending on the need and availability. It was with Malchandji Kalakar Jangid that all this changed, by what one might call a stroke of fate. The family was enduring a long period of poverty, and Malchandji himself was ill for a long period of time. Through a lack of resources and sheer need to continue crafting and providing for his family, he would reach for the smallest tools and blocks of wood he could find. Some say God came to him in a dream, telling him that making miniatures would help take care of his family. Thoroughly committed to something no one else was doing or saw the value of, he began working with cheaper wood. When the work was complete, it caught the eye of a local businessman, Mr. Nahta, who was so thrilled with Malchandji's creation that he told him to just keep carving. And that he would buy every piece. The first miniature piece he ever sold was in the 1950s to Mr. Nahta, for 20 rupees. Experimenting with other woods and ivory (until the ban), Malchandji finally came upon sandalwood in the early 1960s, which was easily available and not as dangerous to work with at the time. Thus began the Jangid family tradition of miniature sandalwood wood carving.  
Malchandji receiving the National Award in 1971 (left), Details on the Rajasthani Doll (right). Image Credit: shared by Jangid Family
A master of his material and craft, Malchandji was remarkable and prolific within the decade. He won the National Award for Wood Carving in 1971, and was given a special award by Indira Gandhi (then Prime Minister of India) the following year. It was the Rajasthani Doll that won him the award, a work dedicated to all things Rajasthan holds dear- honour, valour and beauty. Bedecked in all the elements of traditional Rajasthani clothing and jewellery, the doll has 11 secret compartments that open to reveal scenes from the lives of local legends and heroes. Queen Hadi's sacrifice of herself in order to urge her husband to action, Queen Padmini's act of self-immolation in order to protect her honour, Maharana Pratap's refusal to surrender under any circumstance and Prithviraj Chauhan's blinded victory via archery are all painstakingly carved, but to name a few.
Jewels in Every Generation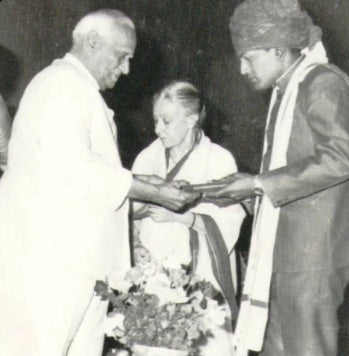 Sh. Chothmal Ji Jangid
Chothmal Jangid won the National Award in 1973 for hisSword, depicting scenes from the life of Maharana Pratap Singh. He also bore four sons; Vinod, Mahesh, Sitaram and Pawan Jangid, each of whom went on to raise the 4th generation of Jangids. At the age of 75, he is still carving and honing his craft.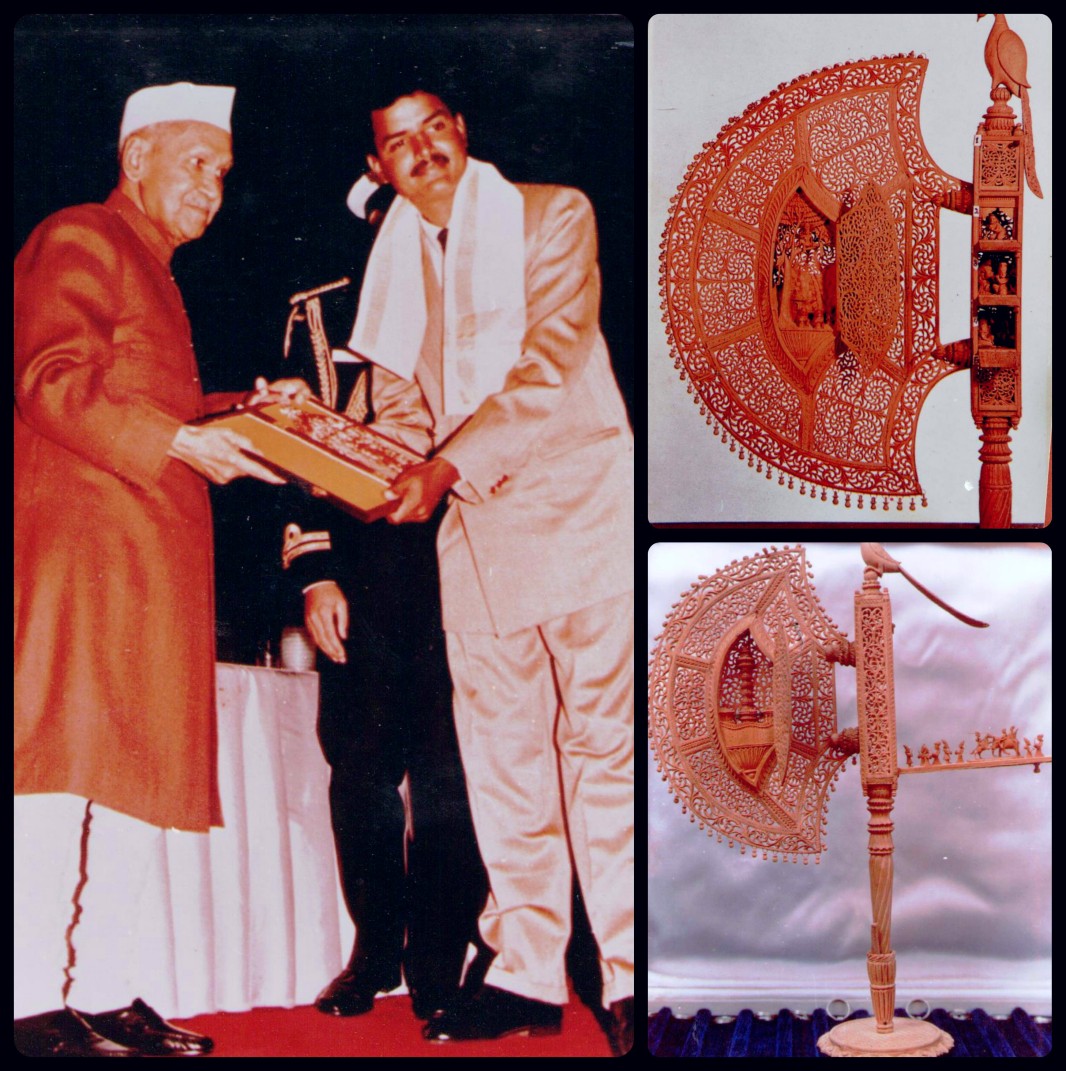 Sh. Mahesh Ji Jangid
As a young boy, Mahesh Jangid completed a basic education and jumped straight into the family business, having never been moved as deeply by anything else. In 1993, he was given the National Award for hisFan, depicting idyllic and divine scenes from the life of Krishna, surrounded by nature and cows. He applied for and was mentioned in the Limca Book of Records- for a thin chain carved from a single piece of sandalwood.  As the world transitioned into the new century, Mahesh Jangid moved with his family to Jaipur as well. His willingness to reach out and carve a niche for his craft is commendable- he created and broke several of his own world records, and eagerly watches his sons do the same.
4th generation of artisans- Mohit & Rohit Jangid:
Mohit and Rohit (Mahesh Jangid's sons) are recipients of various awards at the state level as well as internationally. Due to the restrictions around the National Award age limit, they are each waiting to be acknowledged as National Awardees in their full right as master craftsmen. Of course, this has done nothing to slow them down or deter them. Rohit and Mohit are as committed to evolving and preserving their craft as they are to widening the audience for it.
With new perspectives coming in from the fourth generation of Jangids, there are now online platforms and galleries www.maljiarts.com through which people from all over the world can buy and invest in this craft on Malji Arts.
sandalwood and the craftsmanship, a policy that has been maintained since the time of Malchandji is that in the case of any damage, repairs will be done for free by the family- a decision that sometimes costs money, but reaps long term benefits in ensuring client loyalty and gratitude.
"Someday I would like to build a museum that can people can come and see the kind of work that the three generations of my family have done. I hope to take their name ahead,"
Mohit said. His father, Mahesh, sitting next to him smiled in appreciation.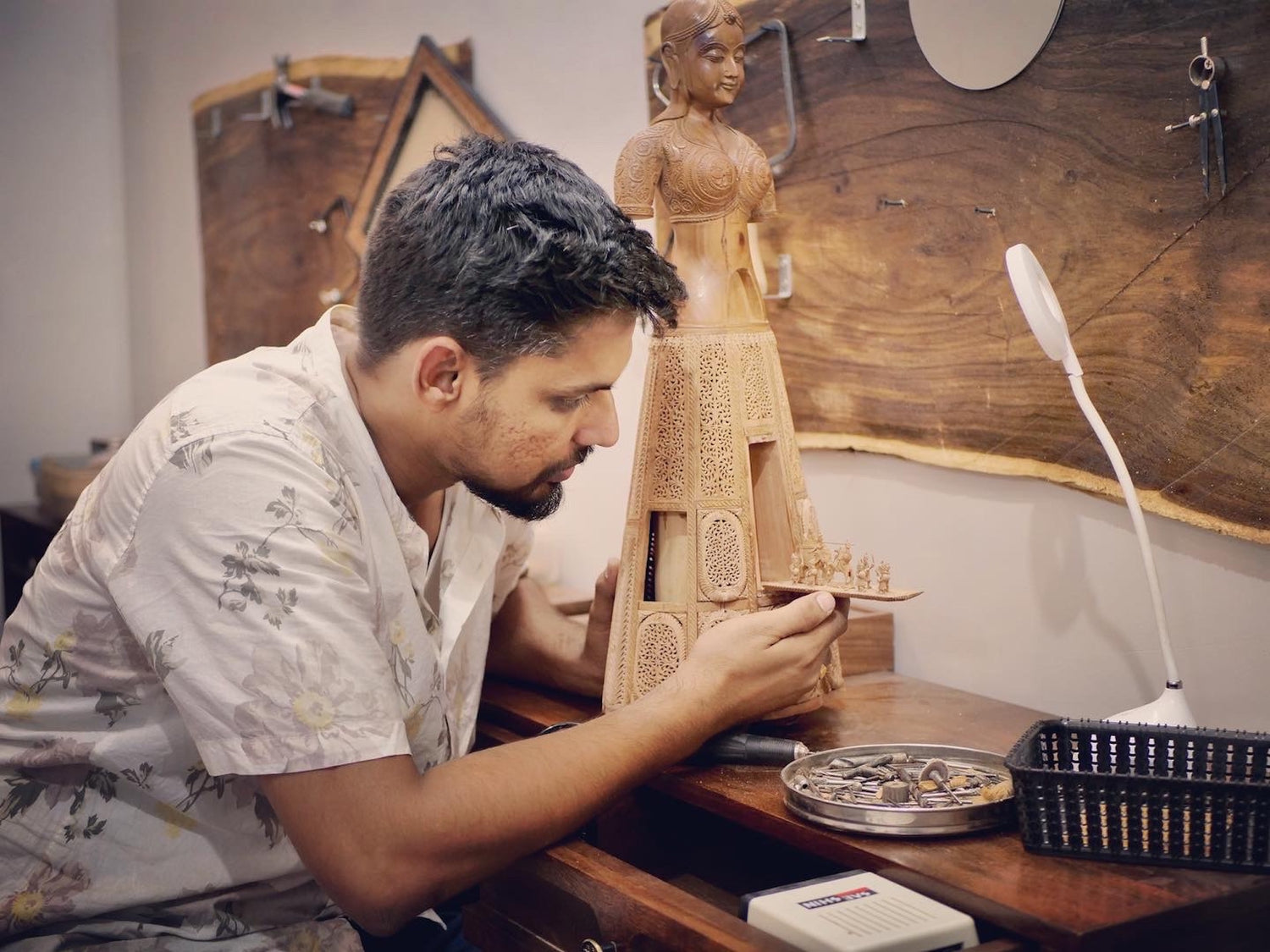 Mohit Jangid Artist
The Crafts Council of India, sponsored by the Kaivalam Foundation of Chennai, has been administering the Young Artisan Award since 2018. The recipient of the 'Young Artisan Award' 2019 is Shri. Mohit Jangid from Jaipur, Rajasthan, for his Excellence in Sandalwood Miniature Carving.
Visit Official Website
"The Jangid Family" Creations